We recently just spent a day in the little ski town of Stowe, VT. Although we were there on the last Alpine ski weekend, city and town people alike still crowded into the little town on Saturday, hoping to get in the last ski of the season. Luckily, flakes came down in big fat blobs on Friday, filling out the hill with a few feet of wet, slippery snow, cushioning the ice below, making the Alpine skiing a little more manageable.
We came in on Friday afternoon, minutes before the air filled with white puffs of water. As the day was already mostly gone, we decided to save skiing for the next day. First was to fill our bellies and warm our ... innards at Idletyme Brewing Company.
We rolled into town starved, and as we both are suckers for a microbrew, we stopped here. Settling in, we couldn't resist trying all the microbrews in a cleverly named "brewski" as the sample cups came on a small wooden ski; they were common place for ski towns, but they didn't grow out of style to order. We ordered some grub, typical pub food of hamburgers, pretzel nuggies, and fries, pushing our fuel gauge needles back to the green zone. Having made a hotel reservation the previous night, we headed towards our room and a place to figure out our next move.
We checked into Sun and Ski Inn and Suites, conveniently located next door to our next choice in entertainment, bowling at Stowe Bowl. This was such a cozy 8-lane bowling alley, with comfy quilted leather couches and armchairs, updated scoring pads for each lane, a waiter to bring you food and beer to your lane, and a new, modern layout.
We had such a fun time bowling, talking with our lane-mates and drinking a couple beers. The waiter and bowling attendant (I'm not sure what to call him) were so nice and helpful. He recommended we have dinner at a local place called the Sunset Grill.
We plodded our way on what we thought was the sidewalk through the ever-thickening snow towards the Sunset Grill, a local bar and restaurant. Shaking and brushing off the gathered snow on our coats and boots, we stomped into the small bar crowded with people. The last table in the bar area beckoned to us, and we peeled our layers off. We ordered beers, a smaller draft list here than at Idletyme, but still, sufficient variety to choose from. We ordered wings, ribs and onion rings with the catchy name of wings, rings, and ribs with their house sauce. Their house must have been on fire from the taste of the sauce, but it did have a good barbecue flavor. After only one more order of wings, we made our way back out in the cold to only get slushed on once by a passing car on our way back to the hotel, the Sun and Ski Inn and Suites.
The grating scrape of a snow shovel against pavement awakened our slumber ... ok, mostly little dog Roxy's slumber, who realized at just that moment it must be time for breakfast. We agreed and drug ourselves out of bed to sate her and ourselves. After breakfast, we planned our skiing adventure! Mike would Alpine Ski at the Stowe Mountain Resort and I would cross country ski at the Stowe Mountain Cross Country Center. I planned to bring Roxy cross country skiing with me (tho she be but little, she is determined), and the only trail I could find that allowed dogs was this trail (circled in red). So Mike dropped us off on our way up the road, and we explored the deep snow, not seeing a soul on the trail. The snow was so deep it covered poor Roxy. She nearly rode on the back of my ski, only moving when I pulled my ski forward to run forward herself.
After doing much of the trails in the circled area, we thumbed a ride on the handy Stowe shuttle bus, who even let Roxy ride too (but I'm not sure she was really allowed). We got off at the gondola where Mike was parked and met him to go to lunch in town at Doc Ponds.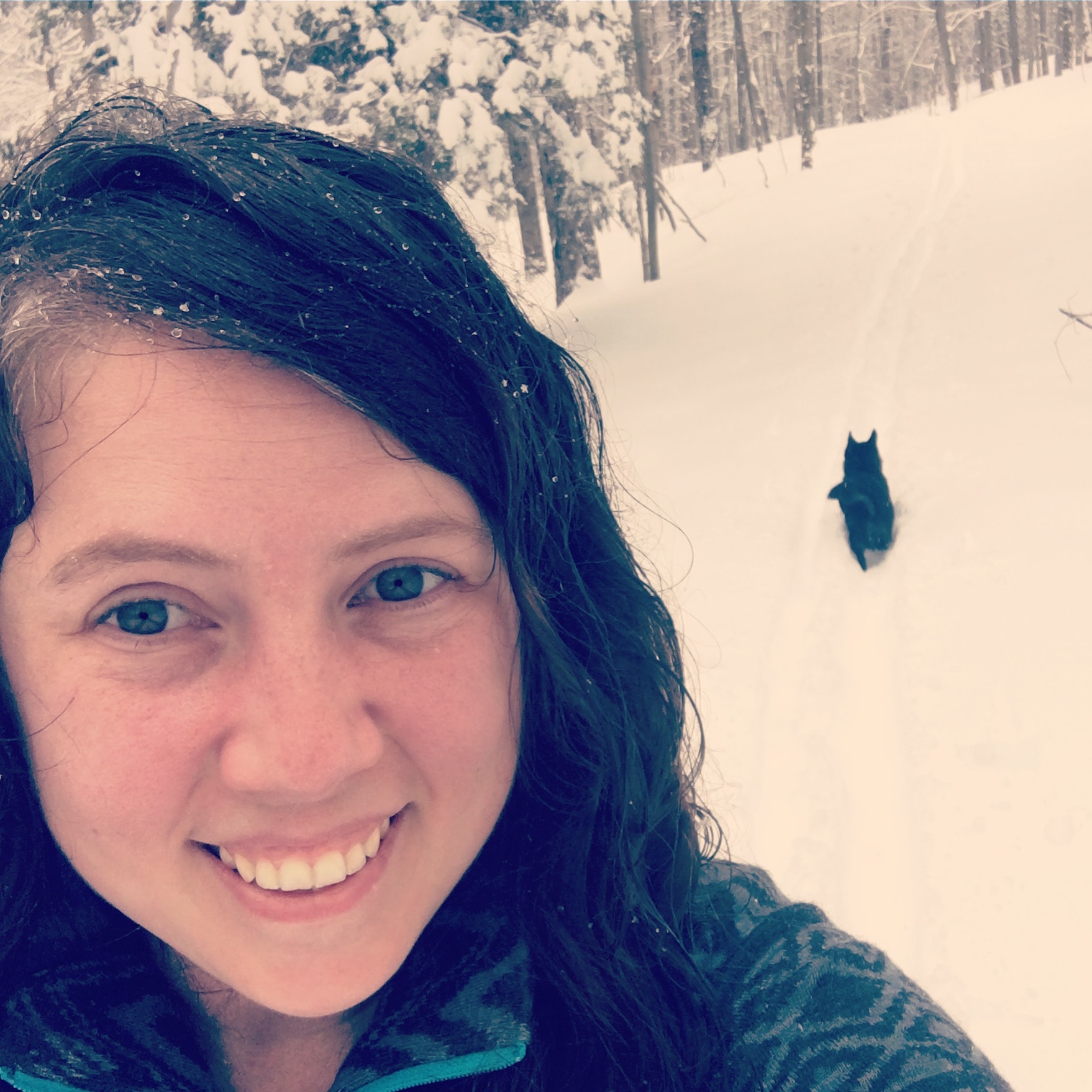 When we asked the bowling alley attendant the previous night where he usually goes for food, he didn't hesitate before he said "Doc Ponds". Unfortunately, it wasn't in walking distance from the bowling alley, so we waiting until lunch the next day to visit.
We were seated quickly after arrival and were left to admire the numerous merchandise featuring the bearded gnome that was the mascot of Doc Ponds. As we debated the origin, the waiter stopped by. A cross between Michael Cera and a nerdy kid from the early 90's, and told us the specials. We asked if they only had the one beer on the board on tap and he laughed at our question, saying "we have quite an extensive beer list" before walking away. Tucked away in with the silverware was a beer list of at least 3 pages. He wasn't wrong. We ordered some local beers on tap and found some delicious food filled with Vermont cheese. The menu was creative but not so hipster twisted that eating was in itself irony. We couldn't resist buying a sticker of the furry fellow that gave us such a good lunch.
If there's one thing that we both love, it's cheese. How could you not? But the best thing is that we both love good sharp cheddar. Now I worry you heard "any old sharp cheddar will do". That's not exactly what I said. What I mean is that when we pick out cheese, we choose the sharpest cheddar available on the shelf that's aged the longest; the oldest, stinkiest cheddar we can find. Our favorite (so far)? Cabot's Seriously Sharp Cheddar. We haven't been able to find it in Toronto, so we stock up whenever we're in the states, and luckily, there was a Cabot Cheese Annex Store here in Stowe. Also, they have a cheese sampling bar. I didn't impress the store clerks when I proceeded to eat one piece of every cheese available, luckily, I was too busy in cheesy wonderland to notice.
Who doesn't love the delicious flavors of Ben & Jerry? They started right here in Vermont just south of Stowe. We couldn't resist visiting the factory, getting a well-guided low-priced tour (with a prank sample of broccoli and cheddar ice cream), and tasting our new favorite flavors. After getting a scoop for ourselves (for me? a sampling of the small batch creation Truffle Kerfluffle) we wandered the Flavor Graveyard, reminiscing about the long gone Wavy Gravy and Schweddy Balls.
At this point, we decided to head to Montreal for the night as we were going to drive to Toronto on Sunday. However, a couple additional places worth noting that I did visit on a previous trip to Stowe.
We watched apples being decimated in the gigantic cider press and drank their cool life juice moments after it ran from their carcasses (that got morbid). On the much more alive side, the cider, both hot and cold, as delicious, as well as the complement of cider donuts and other delicious treats!
Years ago I purchased a beautiful pewter hand mirror with fireflies exploring a green landscape, and an autumn leaf orange hair clip to celebrate my fall New England visit (yes, we were leaf peepers much to the chagrin of the New Englanders). Conveniently located next to the Cabot Annex Store and the Lake Champlain Chocolates!
We couldn't resist purchasing a variety of chocolates and truffles to fill our bellies as we gazed at the fall leave colors many years ago. Such delicious, rich chocolate.